Walking the Path:
The Way to Develop Calm Abiding
& Profound Insight
with Khen Rinpoche
Learn more about our upcoming programs and retreats by emailing info@namchak.org.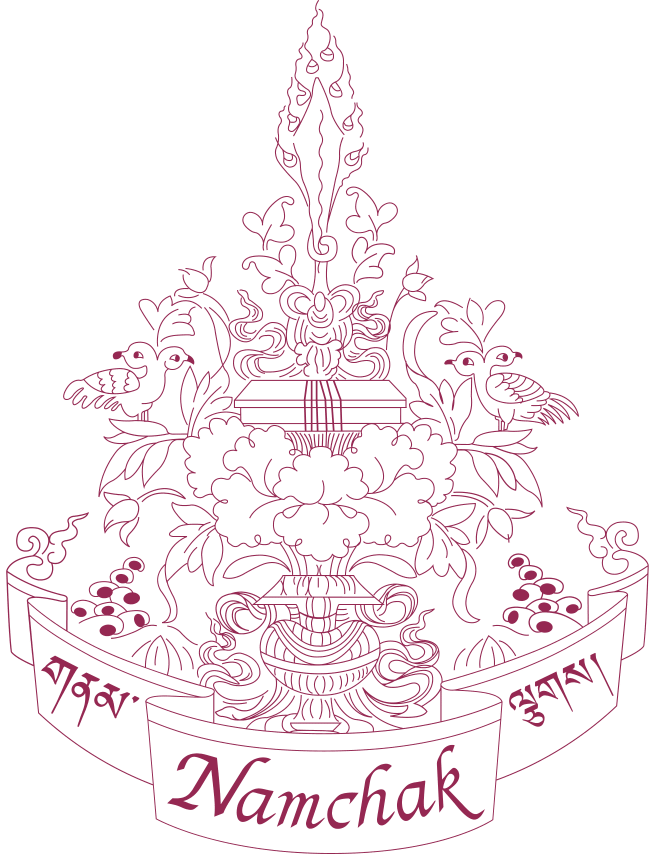 An intimate weekend retreat with Namchak Khen Rinpoche focused on the Tibetan Buddhist meditation practice of Shamata or Calm Abiding.
This retreat is part of our new offering, "Walking the Path (of Calm Abiding and Profound Insight)" a two-year program that brings a developmental and interactive approach to the way we practice meditation.
In this first retreat of the program, Namchak Khen Rinpoche will get us started in the practice of Calm Abiding. The weekend will contain extensive explanations on the practice as well as group practice sessions.
You may be wondering what distinguishes this from the previous Namchak teachings on Calm Abiding and Profound Insight. Earlier, while we were working with methods of traditional Buddhist practice, we didn't practice with them in the traditional Buddhist framework. This new program includes relying upon the Buddha as our teacher, the Dharma as our path, and the Sangha as our helpers. We will take refuge, generate bodhicitta, and end each session with dedications and aspirations. By generating a mind of renunciation, we will focus on attaining liberation and Buddhahood for the sake of all beings.
In our new Walking the Path offerings, clearly outlined practices build upon one another with prescribed timelines. Throughout the program there will be ample opportunities to have regular check-ins with Namchak Khen Rinpoche to clarify your meditation practice. Recommended and required readings will accompany the practices. Learn more about our Walking the Path program below.
April 1-3: Please note all times are Mountain Daylight Savings Time (MDT)
Preliminary schedule:
Friday: 5:30pm – 8pm MDT
Saturday: 9:30am – 12:30pm; 2:30pm – 5pm MDT
Sunday: 9:30am – 12:30 pm; 2:30pm – 5pm MDT
If you're interested in more information about the Walking the Path program please email Rachel@namchak.org.
Those who are already practicing Buddhists or for those who are interested in beginning to walk the Buddhist path to enlightenment.
Our intention is to make our retreats accessible to all. Please choose the tuition amount that works for you. If the program costs present a financial barrier or you are interested in a stipend to offset the cost of childcare, please contact amanda@namchak.org.
This is the first retreat of a two-year program. You can either choose to register as a one-time retreat or you can register for year one of the two-year program. If you decide after this retreat that you would like to register for the whole series, your payment will be applied to the program tuition.
To register for the two-year program: Comprised of four retreats and 8 individual sessions with Khen Rinpoche
Supported – $350/yr – For those with limited financial resources who will benefit from participating in the Walking the Path program. This reduced fee will be supplemented by the community.
Suggested – $550/yr – For those with sufficient financial resources who can pay fair value for the experience.
Sponsored – $750/yr – For those with the financial resources and the desire to support access for others. Your fees, in excess of the actual cost of offering the Walking the Path program, will be used to provide scholarships to those who cannot afford the full program.
Khen Rinpoche completed the study of all the Indian Buddhist philosophical traditions and the Nyingma School of Tibetan Buddhism under numerous master teachers. He also completed an additional nine years of rigorous training and served at the Namdroling monastery for several years. Enthroned as Khenpo by HH Penor Rinpoche, he taught at the Shedras of Ringo Tulku and Shechen Monastery for many years. Khen Rinpoche strictly abides by his precepts in everyday life and is diligent in his practice. He visits and teaches around the world, including the Namchak Foundation and the Namchak Retreat Ranch in Montana, as well as in Taiwan, Hong Kong, and other locations. While in the U.S., he resides and meditates at the Garden of One Thousand Buddhas in Arlee, Montana.
"Khen Rinpoche is one of my favorite teachers. His ability to weave humor and stories into these profound teachings makes it an absolute joy to learn with him".
– Student Joe Previte
"Khen Rinpoche is a master at distilling complex situations and ideas into simple timeless truths with his teaching. As I sit listening to him, I await for the translation. This process slows down my mind and heart rate to take notice of what IS at that moment. Seconds later, I comprehend. Since learning from him, I see the world more clearly and I am happier".
– Student, Huey-Min Chuang
"Khen Rinpoche is a wonderful, radiant teacher. He puts deep thought into answering every question he is asked".
– Student, Kendall Butler
Frequently Asked Questions
Do I need to register for the full program now?
No, you can register for the retreats as we offer them. However, it is highly encouraged that you register for the full Walking the Path program so you're able to consult with Namchak Khen Rinpoche regarding your meditation practice and ask any questions you have regarding the teachings.
Do I need to be a Buddhist to practice these meditations?
No, you do not need to be a practicing Buddhist to attend this retreat. This is the first retreat in the Walking the Path program and is intended to provide students with deeper context and tools to advance on the path towards enlightenment. Please note that students will be taking Refuge and Bodhisattva Vows in Spring 2022.
How should I prepare for this retreat?
How much time do we spend meditating?
We will offer group meditation sessions throughout the weekend. On Sunday morning prior to the first teaching session there will be a guided meditation session. We will offer more information during the retreat.
Join our Community!
Subscribe to our enewsletter to stay up-to-date on retreats, new eCourses, guided meditations,
our retreat ranch, Tibetan Buddhist wisdom, and the Compassion in Action Network.